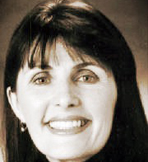 Maggie is based in the Lakewood suburb of Denver, Colorado. She knows the Colorado media well, having worked with them extensively since 1997 when she relocated back to her homestate of Colorado from Kansas.

---
Awards

2006 Partner of the Year, Colorado BioScience Association. May 1999, Business Marketing Association Silver Key -baby-products.com Press Kit. Sept 1998, PRSA/Colorado Silver Pick - Colorado State Fair Press Kit. 1996, Silver Winner - National Healthcare Advertising Awards - Sales Newsletter. 1989, Bronze Award - Hotel Sales & Marketing Association - Direct Mail. 1989, National Clarion Award - Direct Mail Marketing Campaign.

Education

1979-83, Graduate Study in Business, Wichita State University. May 1974, B.A. Journalism, University of Oklahoma, Norman. June 1971, Diploma, Jefferson Senior High School, Edgewater, CO. Aug 1970, Certificate, Univ. of Minnesota High School Journalism Workshop.


---